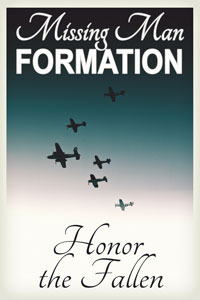 Over 12 million Americans answered the Nation's call over the course of the Second World War. During the 45 months that the U.S. was involved, more than 400,000 servicemen would pay the ultimate price for freedom. Meeting death on the ground and in the skies over war-torn continents, or in the seas between them, the cost of ultimate victory must never be forgotten.
The Missing Man formation serves to remind us of those who sacrificed their future for that of our nation, and is a tradition which dates back to World War II. The symbolic moment when a single aircraft breaks formation and soars skyward, leaving behind his comrades-in-arms.
Featured Aircraft:
FG-1D Corsair                             Stars of History, LLC
P-51 Mustang Lopes Hope       Dakota Territory Air Museum
FM-2 Wildcat                              Dakota Territory Air Museum
Spitfire                                          Dakota Territory Air Museum
Aircraft listed have agreed to participate, but due to factors such as weather or mechanical issues, participating aircraft are subject to change without notice.
The Event Organizers of the Arsenal of Democracy are General Aviation Manufacturers Association (GAMA), National Air Traffic Controllers Association (NATCA), International Council of Airshows (ICAS) and Commemorative Air Force (CAF).  Through the sponsorship of the CAF, a 501(c)(3) non-profit organization, all donations are tax deductible to the extent allowed by law.  Please consult your tax advisor. Any information provided will be handled according to this privacy policy. Tax ID 74-1484491.
PO Box 764769 Dallas, TX 75376 |  ww2flyover@gmail.com | DONATE