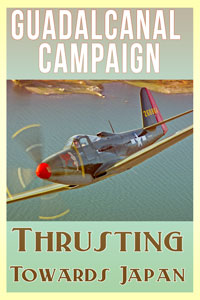 When the U.S. Marines stormed the shores of Guadalcanal in August of 1942, Japanese conquests had reached their peak. This bold, unexpected offensive would prove to be a critical turning point in the war in the Pacific.
A small, but strategic airfield on the island was the focal point of six months of fierce battles on the ground, in the air and on the sea. By the time the Japanese conceded the island in February of 1943, nearly 25,000 Japanese and 1,600 Americans had been killed, with thousands more dead from malaria and other tropical diseases.
Central to the battle was the venerable Grumman F4F Wildcat, which operated from carriers by U.S. Navy pilots and from Henderson Field by Marine Corps pilots throughout the Guadalcanal Campaign. When the Japanese attacked Pearl Harbor, the sturdy and resilient Wildcat was the principal and most advanced fighter for both the Navy and the Marines in the Pacific
Later in 1942, the Wildcats of the Marine Corps operating from Henderson Field were joined by Bell P-39 Airacobras assigned to the U.S. Army Air Forces. Although the Airacobra had success in other theaters and were a vital part of the so-called "Cactus Air Force" defending Guadalcanal, like the Wildcat, it was outmatched by the faster and more agile Mitsubishi Zero flown by Japanese carrier-based fighter pilots. Both the Wildcats and Airacobras were able to hold their own against the Zeros because of their rugged construction and the unique battle tactics developed by the combat aviators who flew them.
Featured Aircraft:
FM-2 Wildcat          Commemorative Air Force, Wildcat Sponsor Group
FM-2 Wildcat          Fighter Factory
P-39 Airacobra       Commemorative Air Force, Central Texas Wing
Aircraft listed have agreed to participate, but due to factors such as weather or mechanical issues, participating aircraft are subject to change without notice.
The Event Organizers of the Arsenal of Democracy are General Aviation Manufacturers Association (GAMA), National Air Traffic Controllers Association (NATCA), International Council of Airshows (ICAS) and Commemorative Air Force (CAF).  Through the sponsorship of the CAF, a 501(c)(3) non-profit organization, all donations are tax deductible to the extent allowed by law.  Please consult your tax advisor. Any information provided will be handled according to this privacy policy. Tax ID 74-1484491.
PO Box 764769 Dallas, TX 75376 |  ww2flyover@gmail.com | DONATE