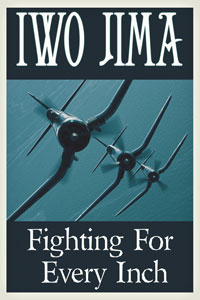 Fighting for Every Inch
Immortalized forever by the photo of Marines raising the U.S. flag over Mount Suribachi, the battle of Iwo Jima helped to secure three airfields and provided the United States with an important staging area for the much anticipated invasion of the Japanese homeland, as well as an emergency landing field for Japanese-bound bombers and a home base for fighter escorts.
It is a testament to the ferocity of the fighting on Iwo Jima that more than 25,000 U.S. Marines were killed or wounded during 35 days of fighting in February and March of 1945, and nearly 19,000 Japanese soldiers were killed…the only battle of the war in which U.S. casualties exceeded Japanese.
Carrier-based Chance Vought F4U Corsair fighters were critical to American success during the battle for Iwo Jima. As originally designed, the pilot sat far back in the fuselage of the Corsair and his view was restricted because of the 2000 horsepower motor, thirteen- foot diameter propeller and huge fuel tank – making landings extremely challenging on the pitching deck of a carrier. So, early models went to land-based Marine pilots who put the aircraft's speed and heavy armament to effective use in both dogfights and in ground support.
Eventually, Corsair pilots shot down 11 Japanese aircraft for every Corsair lost. And, by the beginning of 1945, Marine Corps pilots were flying low-level missions with bombs, rockets, and napalm in support of their fellow Marines on the beaches and in the jungles of small islands throughout the South Pacific, including Iwo Jima – The Japanese called this airplane, "Whistling Death."
Featured Aircraft: Vought F4U Corsair
The Corsair, originally developed by Vought has become one of the most popular Fighter aircraft of the Second World War, however, its original debut as a Carrier-borne fighter was less than spectacular. The airplane had been intended to replace older naval fighter variants, but its difficult carrier landing characteristics caused the navy to pass many of the airplanes off to the Marine Corps' land based air support units. These quirks were eventually worked out, allowing the Corsairs to return to the Fleet's aircraft carriers – just in time to participate in some of the most grueling engagements in the war. The Palaus, Iwo Jima and Okinawa. It was here that the airplane earned a reputation as a "Mudfighter." Getting down and dirty to support troops on the ground. Its impressive performance characteristics also earned it a reputation as a Kamikaze hunter in these dark days.
Featured Aircraft:
FG-1D Corsair        Commemorative Air Force, Dixie Wing
FG-1D Corsair        Fighter Factory
F4U Corsair             Frank Kimmel
F4U Corsair             Jim Tobul
Aircraft listed have agreed to participate, but due to factors such as weather or mechanical issues, participating aircraft are subject to change without notice.
The Event Organizers of the Arsenal of Democracy are General Aviation Manufacturers Association (GAMA), National Air Traffic Controllers Association (NATCA), International Council of Airshows (ICAS) and Commemorative Air Force (CAF).  Through the sponsorship of the CAF, a 501(c)(3) non-profit organization, all donations are tax deductible to the extent allowed by law.  Please consult your tax advisor. Any information provided will be handled according to this privacy policy. Tax ID 74-1484491.
PO Box 764769 Dallas, TX 75376 |  ww2flyover@gmail.com | DONATE