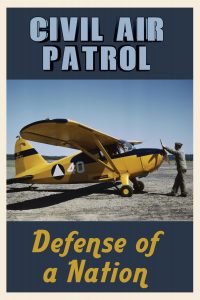 In the early days of World War II, the Army and Navy did not yet have sufficient resources to patrol and protect shipping routes in the Atlantic and Gulf of Mexico.
At a time when German submarines were prowling the waters off the eastern shore of the country and sinking vitally important tankers, the military's senior leadership asked for help from the newly formed Civil Air Patrol, an organization of civilian pilots volunteering to use their aircraft in defense of the Nation.
Armed with small bombs and depth charges, the CAP's Coastal Patrol used light, single-engine aircraft like the Stinson L-5 Sentinel, the Aeronca L-16 Champion, and the Piper L-4 Grasshopper to fly missions from 21 bases from Maine to Texas.
Over an 18-month period, the Civil Air Patrol spotted 173 possible submarines, attacked 57 and dropped 82 bombs. It also flew over 24 million miles during 5,684 convoy support missions.
Its efforts helped the military push the submarine threat well away from coastal shipping lanes, but not without cost. The Coastal Patrol suffered 26 fatalities and 90 aircraft during the early years of the war.
In addition to coastal patrol, CAP pilots performed many other critical tasks, including search and rescue, target towing, border patrol, forest fire patrol, interceptor training, and dozens of other missions.
Featured Aircraft:
L-5  Sentinel –                 Commemorative Air Force (Capital Wing)
L-5 Sentinel –                 Commemorative Air Force (Joe Foss Squadron)
L-16 Champion –           John Corradi
L-4 Grasshopper –        Chuck Tippett
L-4 Grasshopper –       Art Nalls
L-4 Grasshopper –       Kirk Wicker
L-4 Grasshopper –       Steve Taylor
Aircraft listed have agreed to participate, but due to factors such as weather or mechanical issues, participating aircraft are subject to change without notice.
The Event Organizers of the Arsenal of Democracy are General Aviation Manufacturers Association (GAMA), National Air Traffic Controllers Association (NATCA), International Council of Airshows (ICAS) and Commemorative Air Force (CAF).  Through the sponsorship of the CAF, a 501(c)(3) non-profit organization, all donations are tax deductible to the extent allowed by law.  Please consult your tax advisor. Any information provided will be handled according to this privacy policy. Tax ID 74-1484491.
PO Box 764769 Dallas, TX 75376 |  ww2flyover@gmail.com | DONATE