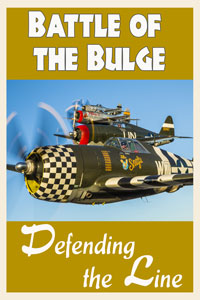 Defending the Line
The Battle of the Bulge was Germany's last major offensive campaign of World War II. It began in mid-December of 1944 as a surprise attack on American forces in the Ardennes area of Belgium. Before it was over, the battle would involve more than 500,000 Germans, 600,000 Americans and 50,000 British troops.
Characterized initially by cold temperatures and overcast skies, the battle demonstrated how thoroughly air support had been integrated into contemporary military operations; the Allies' inability to dominate the skies over the battlefield prolonged the German offensive and, conversely, the return of air support helped the Allies achieve victory in the battle.
It began on December 16 with a German attack designed to catch the Allies unaware, and split their forces in half. The Germans wanted to capture the Belgian harbor of Antwerp. That initial offensive against unprepared American defenders created a large, 80-mile wide bulge in the Allied lines.
After the Germans' initial success and as skies cleared, C-47 transport aircraft began to resupply ground troops that were running dangerously low on ammunition and supplies. Improved weather also allowed the Americans to begin supporting ground troops with low-level attacks by P-47 Thunderbolts and A-26 Invaders. Between the re-supply effort and ground support, Allied air superiority was the deciding factor in defeating Germany's last-gasp attempt to turn the tide of the war.
Featured Aircraft:
A-26 Invader            Tim Savage
A-26 Invader            Jed Doggett
Aircraft listed have agreed to participate, but due to factors such as weather or mechanical issues, participating aircraft are subject to change without notice.
The Event Organizers of the Arsenal of Democracy are General Aviation Manufacturers Association (GAMA), National Air Traffic Controllers Association (NATCA), International Council of Airshows (ICAS) and Commemorative Air Force (CAF).  Through the sponsorship of the CAF, a 501(c)(3) non-profit organization, all donations are tax deductible to the extent allowed by law.  Please consult your tax advisor. Any information provided will be handled according to this privacy policy. Tax ID 74-1484491.
PO Box 764769 Dallas, TX 75376 |  ww2flyover@gmail.com | DONATE